今日は雪は降りませんでしたが寒い一日でした。
連休中はソフトのインストレーションやいろんな仕込みで結構睡眠不足でした。
今日になって少し時間ができたので昼間に近所にできた新しいカフェでランチしました。
これが結構美味しいメキシカン料理!
浜田山にも少しづつ良いお店が増えて来て嬉しいです。
さて明日は国分寺でオルガントリオのライブです。
M'sでこのメンバーで演るのは初めてなのでちょっと楽しみです。
食事も美味しいので是非お越し下さい☆
Today it does not snow but it is very cold.
I was short of sleep because of instration of softwear and lot of preparation this weekend.
Today, I had time for lunch, so I went to a new cafe near my place.
That was amazing! Great Mexican meal!
It is nice to have more good shops in Hamadayama little by little.
Tomorrow, I will perform as organ trio at Kokubunji M's.
It is first time to play at M's with this member, so I'm looking forward it.
You can have a nice meal at M's.
So please come by!
2/1(金)■□◆◇IWAO OCHI TRIO@@Kokubunji M's◇◆□■
越智巌(g)、西川直人(org)、横山和明(ds)
@国分寺M's
東京都国分寺市本町2-7-5赤星ビルB1F 042-325-7767
open19:00 start19:30 MC:2000yen
https://www.ms-artjazz.com/
美味しいブリトー!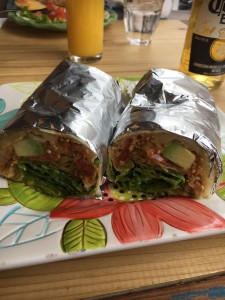 明日です。