今日の東京は最高に良い天気です。
そういえばまだ紅葉も観れてないなと思い、ランニングついでに荻窪の大田黒公園に行って来ました。
見事に赤と黄色の世界!
夜はライトアップされてるみたいです。
明日から東海〜関西方面です。
今回の遠征もシンラインで挑みます。
初日は名古屋Caballero Clubです。
名古屋の皆様、是非お越しください☆
Tokyo is so nice weather today.
By the way, I thought that leaves of autumn were not seen yet,
and went to Otake park in Ogikubo at the end of jogging.
There were awesome world of red and yellow.
There is light up in night time.
I'll go to Tokai-Kansai area from tomorrow.
This time I'll bring my new guitar.
Tomorrow will be Nagoya.
Please come by!
12/1(土)■□◆◇JAZZ LIVE@Nagoya CABALLERO CLUB◇◆□■
越智巌(g)、土田邦雄(b)、天野雅康(ds)
@名古屋CABALLERO CLUB
愛知県名古屋市東区東桜2-15-28 小島ビル1F
052-931-0914
start 20:00 MC:2200yen
http://www.caballero-club.com/
銀杏並木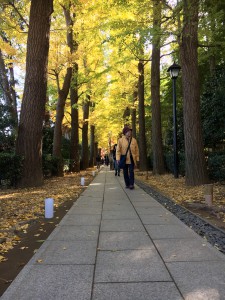 赤と黄色の世界