今年も夏の新潟ライブ無事終了しました!
各会場にお越し頂いた皆様、どうもありがとうございました。
いつもながらメンバーの皆さんそしてお客様に暖かく迎えていただき、一緒になって盛り上がってくれて本当に感謝です。
また年末に行くので皆さん待ってて下さいね☆
10日からの滞在でしたが本日無事に東京に帰ってきました。
新潟がずっと猛暑だったので雨の東京は少し楽です。
熱が籠る部屋に置いてあった楽器も遮熱シートのお陰で何とか無事みたいで良かったです。
新潟滞在は夏休み的な感じで色々と楽しめました。
また今日からシフトチェンジして頑張ろうと思います。
The summer of Niigata live was finished successfully!
Thank you to everyone who came to each venue.
I would like to thank all the members and customers for their warm welcome and excitement together.
I will go to the end of the year, so please wait!
Although it was a stay from 10th, I came back to Tokyo safely today.
Niigata was so hot that rainy Tokyo was a little easier.
I was worry that the musical instrument placed in the room where the crazy heat. But it seemed to be safe because of the heat shield sheet.
I enjoyed my stay in Niigata a lot like a summer vacation.
I will change the shift to my work from today and do my best.
夏の新潟での思い出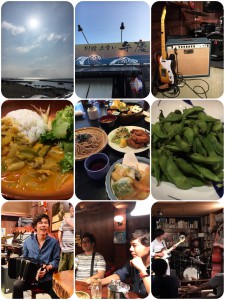 先週の沼袋OJCでのライブ動画です!