昨日は大久保Boozy MuseでROHG QUARTETでした。
稀なバンドですよ。
お父さんが音楽関係の仕事をしていてそれこそ子供の頃からジャズの現場に顔を出していて有名なWes MontgomeryのLive at Half Noteの録音会場に居た!みたいな経験を持つジャズの生き字引の様な伝道師の様なドラマー、マイク。
ミンガスライクなグルーヴで自らブルージーなボーカルも担当するベーシスト、アラン。
NYの武者修行の後Japanese Jazz Messengersのメンバーとして長く活躍して今年初リーダー作をリリースする飛ぶ鳥を落とす勢いのアルトサックス、原川。
まぁ、そして自分なんですが。。。
選曲はいつもアメリカチームが主体なんですが、これが絶妙な選曲。
恐らく日本国内のジャズライブハウスでは聴けないであろう的な曲が目白押し。
でもジャズ好きだったらあっ、知ってる!みたいな曲ばかりだから不思議なんです。
これは50~60年代アメリカ本国でジャズをリアルタイムに浴びる様に聴いて来た彼らならではのなせる技。
そう確信しております。
なので見逃すのは勿体ないのです。
次回は3/14国分寺giee、4/17大久保Boozy Museです。
Thank you for coming to Okubo Boozy Muse last night.
It is a rare band.
HIs dad has been doing music-related work, and since he was a child, he has been on the jazz scene and was at the famous Wes Montgomery Live at Half Note recording place! A drummer like a evangelist of jazz with experience like that, Mike.
Alan is a bassist who is in charge of bluesy vocals by himself in a mingus-like groove.
Harakawa, an alto saxophone who has been active as a member of the Japanese Jazz Messengers for a long time after the training of warriors in NY and will release his first leader album this year.
Well, and myself. . .
The selection of songs is always done by the American team, but this is an exquisite selection.
There are lots of songs that you probably won't be able to hear in a jazz live house in Japan.
But if you like jazz, you know! It's strange but because they were listening to real jazz in the 50s and 60s jazz. This is a unique technique
I believe so.
You can't miss it.
Next time will be 3/14 Kokubunji giee and 4/17 Okubo Boozy Muse.
Boozy Museでした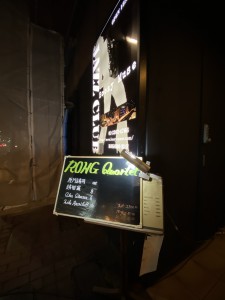 昨日演奏したのはこのアルバムのSt. Vitus Dance

このアルバムのHome at Last