緊急事態宣言の中、自粛生活を送っている皆様ご無事ですか?
都心はだいぶ人の往来が減ってるみたいです。
逆に公園は原宿みたいに人がいっぱいいます。
家に籠っての生活もストレスが溜まってきますよね?
自分も自宅でSpeaker Sgt.のメンバーとリモートセッションの動画を毎日Facebook、Twitter、Instagramに投稿してます。
このホームページの一番下にアイコンがあるのでそちらから入れますのでよろしかったらチェックしてみて下さい。
ライブも5/6までは中止ですね。
ただそれ以降はどうなるかまだ分かっておりません。
終息が上手くいけば良いのですが。。
そんな中今月発売のJazz Lifeに今回のアルバムレビューが掲載されてました。
なんだかすごく鋭いなぁと思えるレビューでした。
ふと思えばリリース後の今頃は大忙しなイメージしかありませんでしたが、
結局発売記念ライブも出来ない状況でまともにポロモーションもできてないです。
中年男子の未来の希望も何もかも吹っ飛んでしまいました。。
ただAmazonのJ-Jazz新着チャートにはまだ入ってます。
大逆転するにはこういう所での結果しかありません。
よろしかったら皆様の応援宜しくお願いします!
ミュージックビデオも是非ご観覧下さい。
そして宜しかったらお知り合いにシェアして頂けたら幸いです。
Stay Home、耐え抜きましょう!
Jazz Life5月号です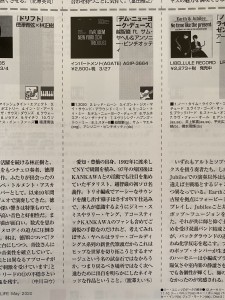 Are you safe everyone living in a self-restrained state in the emergency declaration?
It seems that the number of people has decreased in the city center.
On the contrary, the park is full of people like Harajuku.
Everyone feels stress to stay at home.
I also post videos of remote sessions with members of Speaker Sgt. To Facebook, Twitter, and Instagram everyday at home.
Since there is an icon at the bottom of this home page, You will enter it from there, so please check it if you like.
Gigs will be canceled until May 6th.
However, we do not yet know what will happen after that.
I hope I can finish it well. .
Meanwhile, my new album review was published in Jazz Life released this month.
It was a very sharp review.
By the way, after the release, I only had a busy image at this time, but
In the end, I couldn't do a release commemorative live, so I couldn't do a promotion.
All the hopes of the future of middle-aged boys have been blown away. .
However, My new album is still on the J-Jazz new chart of Amazon.
There is only a result in such a place to make a big reversal.
Thank you for your support!
Please also see the music video.
And it would be greatly appreciated if you could share it with someone you know.
Stay Home, peace!