東京はまだまだ緊急事態宣言下です。
都内の感染者は減ってきてますがもう少し時間がかかりそうです。
ステイホームセッションもまだ続けてます、インスタ、ツイッターやフェイスブックに投稿してます。
しかしこのコロナ騒ぎで色々と考えさせられる事があります。
これまでの常識がもう効かない事も沢山出てくるでしょう。
新たなるルネッサンスが訪れるかもしれません。
自分は音楽に助けられ音楽を愛し音楽によって生かされているので何も変わることはありません。
ただこの時期に慌てふためいて何だかんだ意見をSNS等で発信する事は控えてます。
ここはどっしりと構えときゃいいんです。
成るようにしか成らないのだから。。。
さて一応現在予定されてる6月7月のスケジュールをアップしました。
この状況ですからどうなるかまだ分かりませんが。。。
一応7月には関西方面にアルバムのリリースツアーを予定しております。
是非チェックしてみてください。
Tokyo is still under a state of emergency.
The number of infected people in Tokyo is decreasing, but it will take a little longer.
I am keep uploading stay home sessions to instagram, twitter and facebook.
But there are many things we have to think about in this situation.
There will be many things that common sense does not work anymore.
A new Renaissance may come.
I am helped by music, love music, and live by music, so nothing changes.
However, I refrain at this time to share my opinions on SNS.
We don't have to panic here.
That will be all.
The schedule for June and July, which is currently scheduled, has been updated.
I don't yet know what will happen in this situation. .. ..
In July, we are planning a release tour of the album in the Kansai area.
Please check it out.
世の中の自粛のお陰でかな?杉並の公園にコクワガタがいました。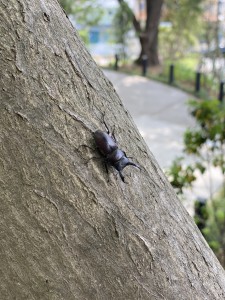 動画も少しづつ再生回数増えてます。是非拡散して下さい!