連休も終盤です。
アルバムが発売されてから一週間経ちました。
昨日は新宿と渋谷のタワーレコードを見てきました。
ジャズの売り場がだいぶ縮小されてましたが、ちゃんと試聴機に入ってましたよ!
この週末是非お出掛け頂き、たまにはネットでなくお店で購入っていうのもいかがですか?
さて明日は亀有でオルガントリオのライブです。
夕方からのライブになります、是非お越し下さい☆
The holidays are also at the end.
It's been a week since the album was released.
I went to Tower Records in Shinjuku and Shibuya yesterday.
The jazz section has been shrunk a lot, but it's in the listening device!
Why don't you go out this weekend and buy it at a store instead of online?
By the way, tomorrow is gig of the organ trio in Kameari.
It will be start from the evening, please come by
5/8(土)■□◆◇IWAO OCHI ORGAN TRIO@Kameari JAZZ38◇◆□■
越智巌(g)、西川直人(org)、横山和明(ds)
@亀有JAZZ38
東京都葛飾区亀有3-30-2 03-3690-8363
start18:00 MC:2500円
https://www.jazz38-k.tokyo.jp
新宿店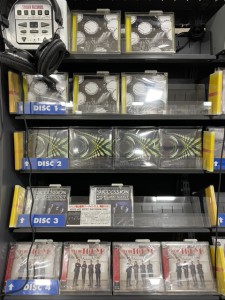 渋谷店