昨日は東中野Big Riverでした。
お越し頂いた皆様、どうもありがとうございました!
ギターの加藤泉さんとは初共演でしたが、物凄く楽しかったです。
このユニット次回は9/14です。
さて本日発売のJAZZ JAPAN誌に見開き2ページでインタビューが掲載されています。
自分と音楽の関係など読みごたえありの内容となっております。
是非チェックしてみて下さい☆
明日は経堂でカルテットライブです。
お近くの皆様、是非お越し下さい!
Yesterday was Higashinakano Big River.
Thank you to everyone who came!
It was my first time to co-star with Izumi Kato on guitar, but it was a lot of fun.
The next time for this unit is 9/14.
By the way, the interview is published in the two-page spread in JAZZ JAPAN magazine released today.
The content is readable, such as the relationship between myself and music.
Please check it out ☆
Tomorrow is a quartet live at Kyodo.
Everyone near you, please come by!
5/24(火)■□◆◇QUARTET LIVE@Kyodo CRAZY LOVE◇◆□■
原川誠司(as)、越智巌(g)、座小田諒一(b)、小沼奏絵(ds)
@経堂CRAZY LOVE
東京都世田谷区経堂1-22-18 03-3425-9041
start19:00 MC:3000 yen
https://www.jazzbar-crazylove.info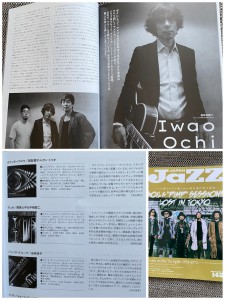 明日のメンバー