2023年、明けましておめでとうございます。
年末恒例の新潟2Daysも無事終わり、東京に戻って来ました。
去年はアルバムリリース、全国ツアーと目まぐるしい一年でした。
今年は新たに著作権フリー音楽の販売をメインとしたレーベルのECサイトをオープンして運営する事になります。
忙しくなりそうですが、楽しみでもあります。
本当にコロナの終息が鍵ですが、演奏活動も活発にしていきたいです。
雁字搦めだった3年間を取り戻すためにも積極的に動いていきたいと思います。
ご期待に沿えるよう頑張りますので、今年も応援どうぞよろしくお願いします!
Happy new year 2023.
The year-end Niigata 2Days Live ended successfully, and I came back to Tokyo.
Last year was a hectic year with an album release and a national tour.
This year, I will open and operate a new label EC site that mainly sells copyright-free music.
It's going to be busy, but it's also fun.
The end of corona is really the key, but I want to be active in my performance activities.
I would like to actively move in order to recover the 3 years that were a scramble.
I will do my best to live up to your expectations, so please support me again this year!
謹賀新年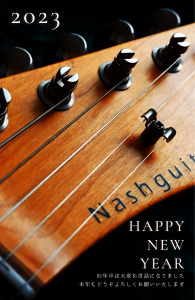 新潟でエリントンと新年を迎えました